The Martyr of Dictatorship – Patriarch Abune Antonios of Eritrea Enters Eternal Rest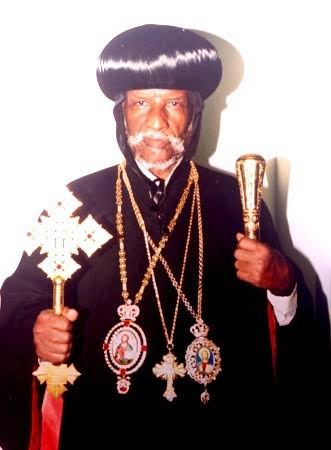 OCP News Service – 9/02/2022
Asmara-Eritrea: It was reported by Radio Erena broadcasting station that the canonical Patriarch Abune Antonios of Eritrea passed away at the age of 92. Abune was the 3rd legitimate Primate of the Eritrean Church who has been under house arrest since 2007.
He staunchly defended the freedom of the Church and its faithful against the authoritarian government of Eritrea. He was denied the freedom to receive medical care abroad despite several international agencies and human rights organizations calling for his release. Patriarch Antonios suffered for 15 years in detention for the Church and for the people of Eritrea. He was a true martyr of government dictatorship.
Abune Antonios was born on the 12th of  July 1929 in the town of Hembrti, in the province of Hamasien. He became a priest in 1942 and was ordained an Abbot in 1955. He was consecrated as Bishop Antonios of Hamasien-Asmara in 1994 at the Saint Mark's Coptic Orthodox Cathedral, Cairo, by Pope Shenouda III of Alexandria and was enthroned as the Patriarch of Eritrea in 2004 again by Pope Shenouda III.
Detention– Under the supervision of the Afwerki regime, a secret session of the Holy Synod in January 2006 at Asmara formally removed Patriarch from his office on 20th January. Two priests accompanied by Government security forces invaded Patriarch's residence and confiscated his personal pontifical insignia. This was in response to the decision made by Abune Antonios to keep the Church away from the influence of the regime.
Violating the church canons and constitution, the government installed Bishop Dioscoros of Mendefera as the anti-patriarch on 27th May 2007 (Dioscoros passed away in 2016). Abune Antonios on the same day was forced to move out of his office and has been detained ever since in the capital city of Asmara.
In 2019 Abune Antonios was falsely expelled from the Church by a group of top bishops. They accused him of heresy, a move that was part of the ongoing authoritarian propaganda programs by the Eritrean government. Moreover in June 2021, the Church consecrated Abune Kerlos (Cyril) as the 5th Patriarch of the Church. However, Abune Antonios was considered the canonical Patriarch rest of the Orthodox Churches until his demise.
Source:
OCP News Service