His Beatitude Metropolitan Herman Enters Eternal Rest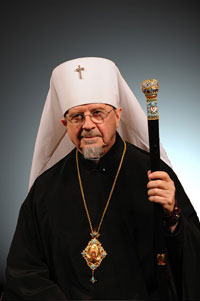 OCP News Service – 06/09/2022
Pennsylvania – United States: His Beatitude Metropolitan Herman (Swaiko), former primate of the Orthodox Church in America entered eternal rest on 6th September 2022  at the age of  90.
Metropolitan Herman was consecrated to the episcopacy in 1973 and served as the primate of the church from 2002 to 2008.  After his retirement, Metropolitan quietly resided in a house on the grounds of Saint Tikhon's Monastery in South Canaan, Pennsylvania until his repose.
Metropolitan Herman was well known as a proponent of the Sanctity of Life.  For many years, he participated in the March for Life held in the US capital every January, leading the Orthodox participants and addressing thousands in defense of the unborn.
His funeral services will be conducted on 16th September 2022.
The schedule for the funeral of Metropolitan Herman is as follows:
Wednesday, September 14
4:00-6:00 PM: Viewing at Holy Resurrection Cathedral, Wilkes-Barre, PA
6:00 PM: Panikhida at Holy Resurrection Cathedral
Thursday, September 15
Transport of body from Wilkes-Barre to Saint Tikhon's Monastery, South Canaan, PA
3:00 PM: Arrival of body at Monastery with short memorial service
4:30 PM: Daily Vespers and Matins
7:00 PM: Burial service for a Hierarch
Friday, September 16
8:30 AM: Hours and entrance of Metropolitan Tikhon (vesting in altar)
9:00 AM: Hierarchical Divine Liturgy
Burial in cemetery and meal in monastery trapeza
Source:
OCP news Service