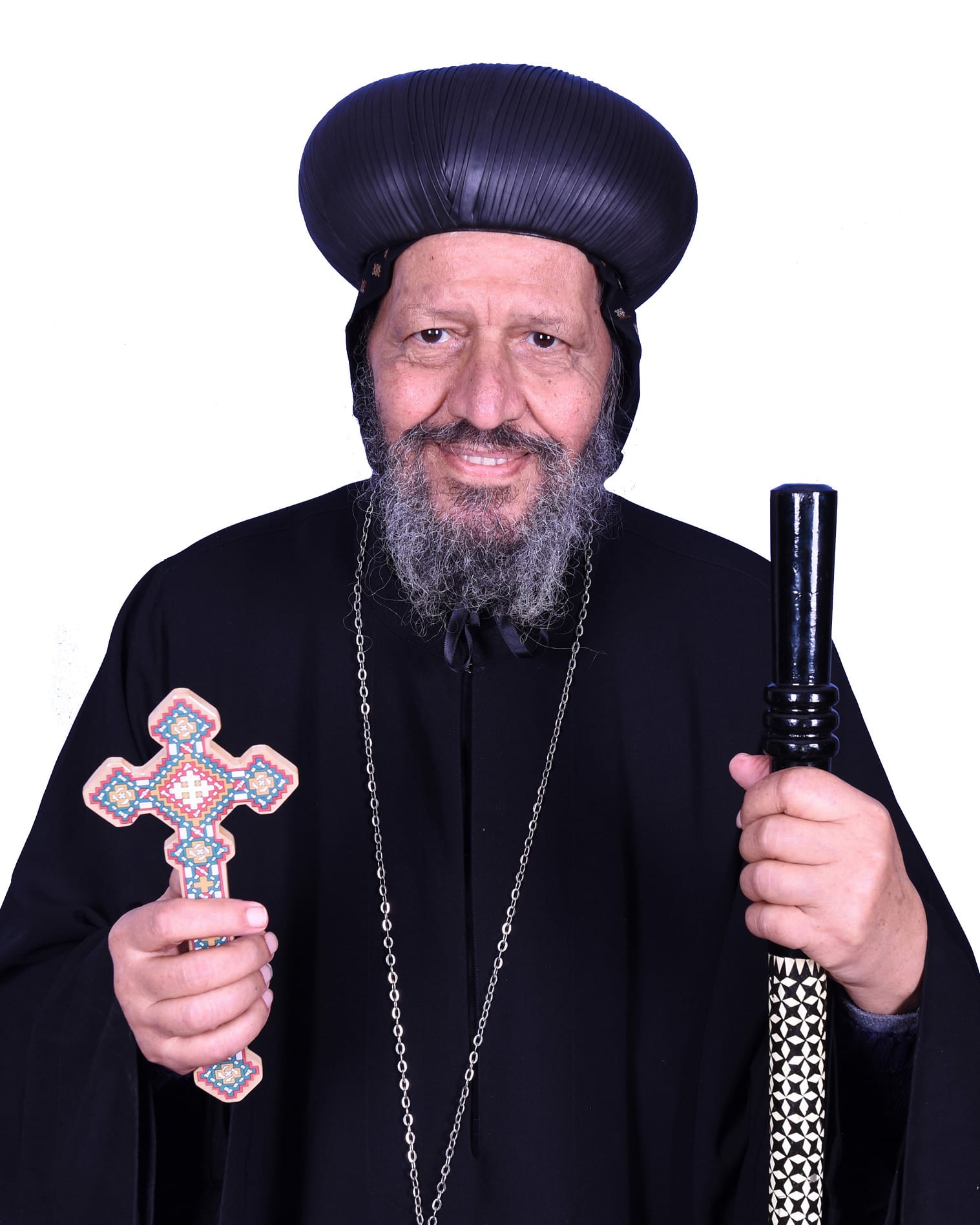 Bishop Issac, General Bishop & Spiritual Father of St. Macarius The Alexander Monastery, Behira Enters Eternal Rest
Gerges Mounir Hanna – OCP News Service – 06/09/2022
Cairo – Egypt: Bishop Issac, general bishop and spiritual father of St. Macarius the Alexander monastery, Behira enters eternal rest at the age of 85 on Tuesday, September 06, 2022. According to the official statement from the Coptic patriarchate, the funeral service of the Late Bishop Issac will be held at St. Mark's Cathedral in Alexandria on Wednesday, September 07, 2022.
Biography of Bishop Issac :
His Eminence was born on October 21, 1937, as Louis Fahmy Barsoum.
He received a Bachelor of Science in 1960.
He was from the Church of Anba Taklahimanout in Zagazig.
He came to the Al-Syrian Al-Amer monastery on August 11, 1963 AD.  (Memorial of Saint Wissa) and monked on January 4, 1964 AD (25 Kiahk) in the name of the Syriac monk Wissa.
He was ordained a priest on June 25, 1967 AD.  With the shirts of the fathers Sarapamon the Syriac, Matthias the Syriac, and the monk Bemwa the Syriac.
He received the rank of Qumsieh in 1968.
His Holiness Pope Kyrollos VI commissioned him to go to the seminary to be a confessor for the students there, and to pray in the Church of the Virgin Mary in Qasr al-Rihan.  And he continued like this until the summer vacation, and then he asked to return to his monastery.
His Holiness Pope Shenouda delegated him to serve as deputy to the Patriarchate of Alexandria (September 1974 – April 1975 AD).
He served in several churches inside and outside Egypt: Alexandria – Khartoum (Sudan) – Libya – London – America (in San Francisco) – and Canada.
He was appointed Khoury Episkopos as an assistant to Bishop Maximus, Metropolitan of Qalyubia, the deceased (for service in the Diocese of Qalyubia, Quesna, and Benha) on the Feast of Pentecost, June 18, 1978 AD.  With 4 other Episcopus priests, including Bishop Morcos, and Bishop of Shubra El-Kheima.
He has many spiritual books.
And in the year 2012 AD.  He was assigned by the Patriarch, His Grace Bishop Pachomius, Metropolitan of the Lake, to reconstruct the monastic areas in Mount Nitria and to follow up on the nearby churches.
The golden jubilee of the monastery of Anba Issak was celebrated on Tuesday, January 28, 2014. Pope Tawadros II and a group of bishops attended the monastery.
In agreement with His Holiness Anba Tawadros II, and His Eminence Bishop Pachomius, Metropolitan of Beheira, Matrouh and the five western cities, His Eminence Bishop Isaac El Khoury Episcopus began assisting His Eminence Bishop Pachomius in serving in the diocese.  This was in the management of the monastery of St. Makarios of Alexandria in Beheira after the church recognized his monastic order in 2014. He was then promoted to the rank of the episcopate (general bishop managing the monastery) on June 1, 2014, when he was the only one in the Holy Synod who held the rank of Episcopos priest.
Source:
OCP News Service