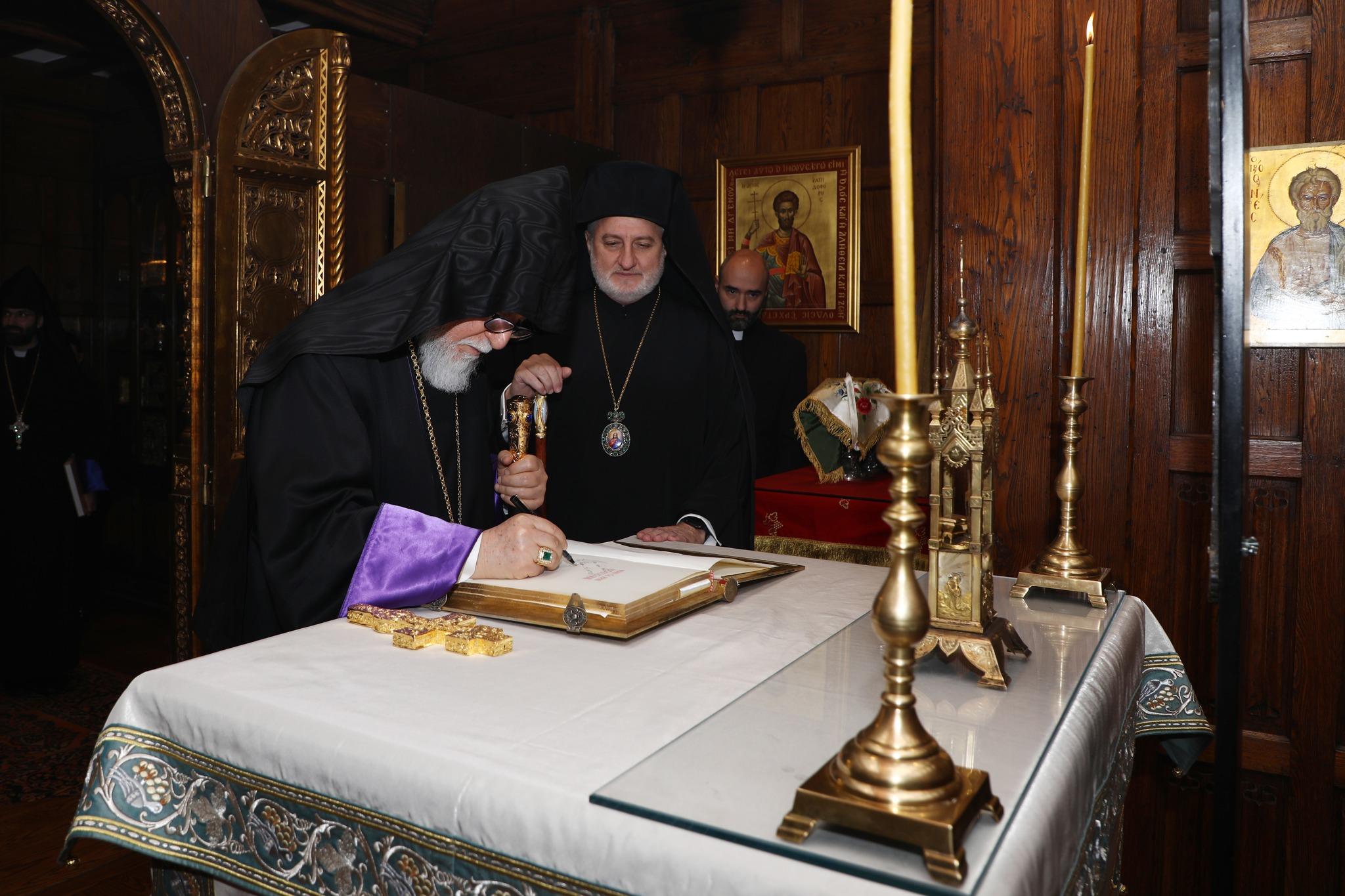 Catholicos Aram I Visits Headquarters of the Greek Orthodox Archdiocese of America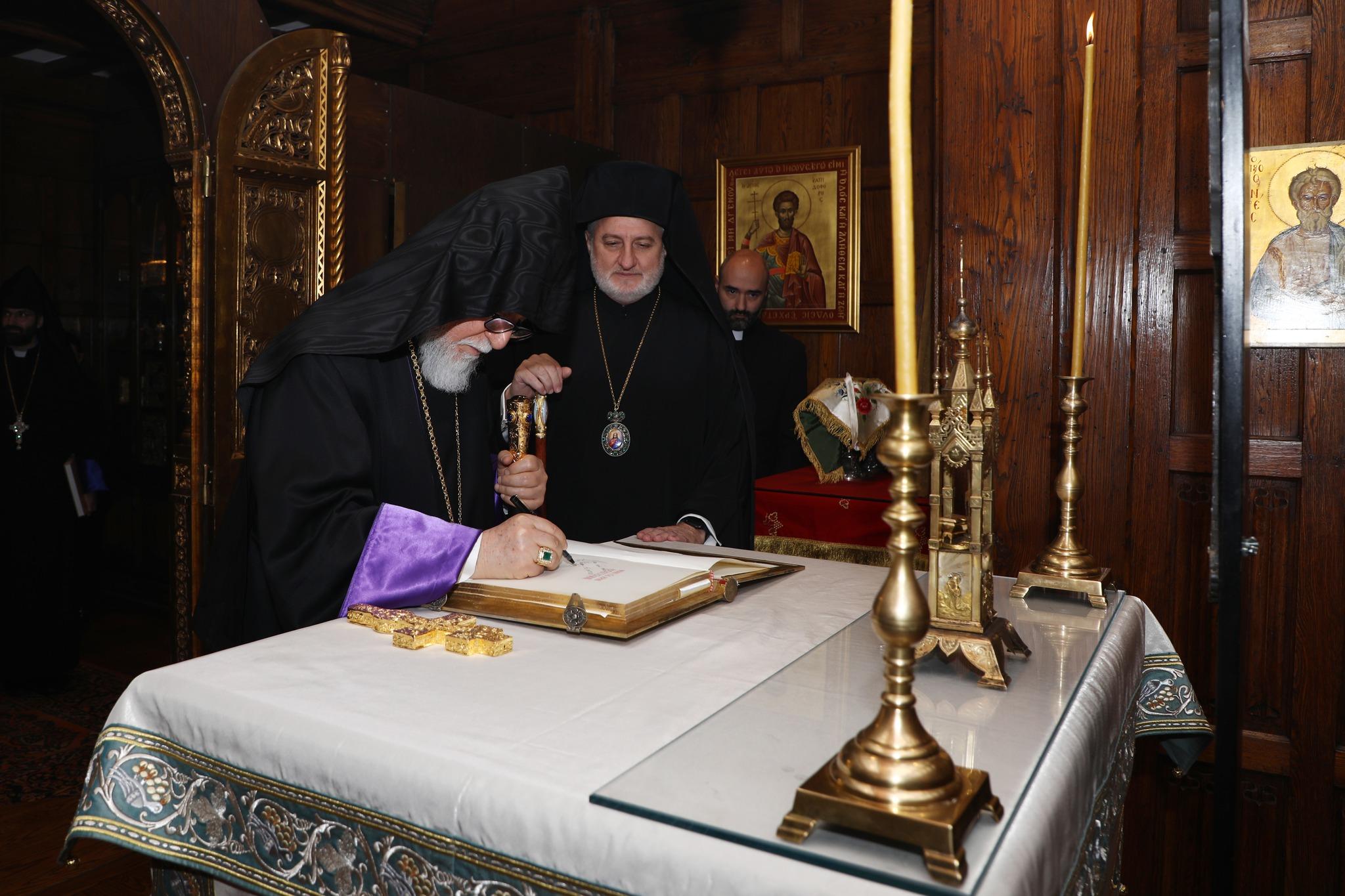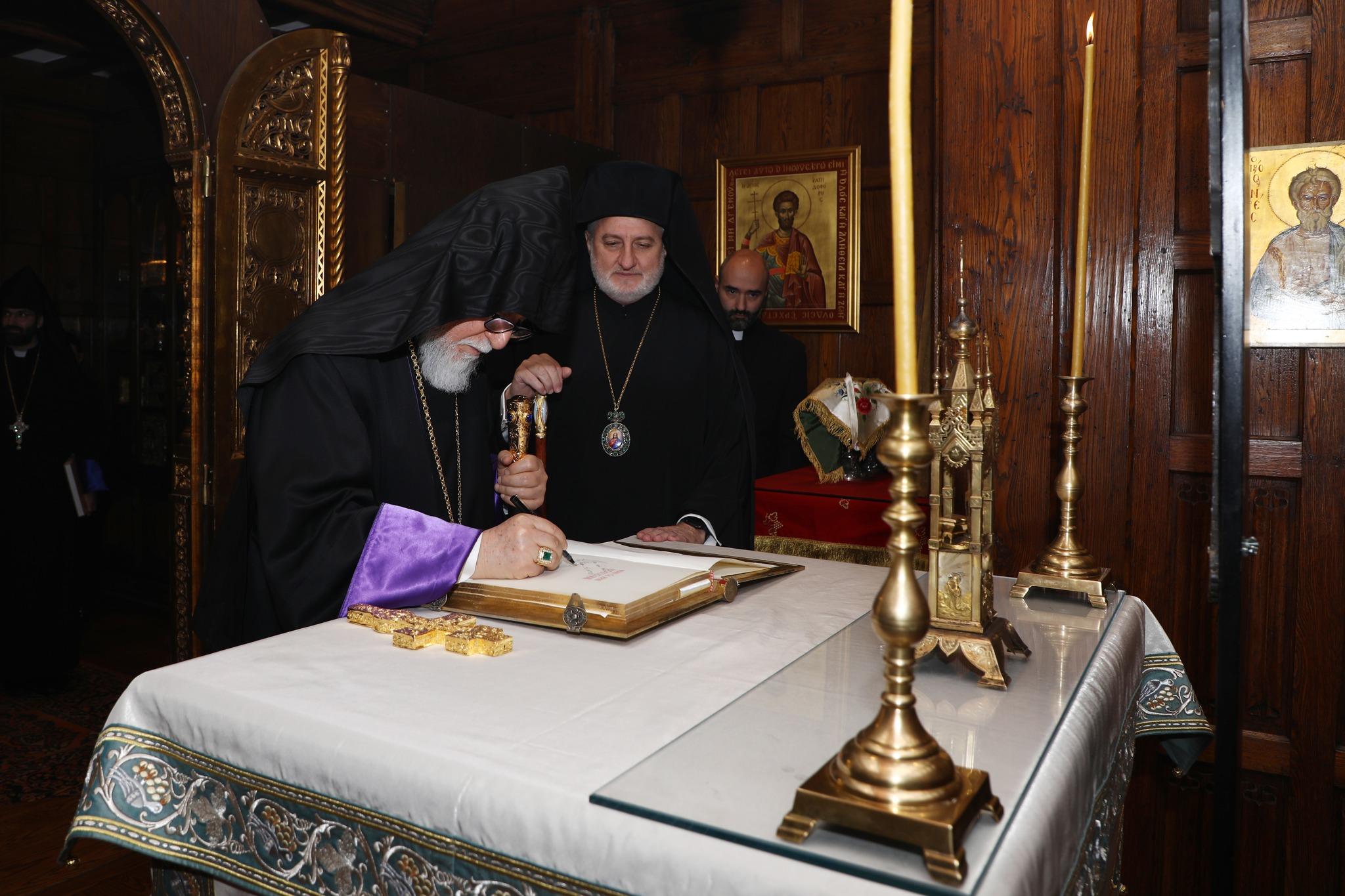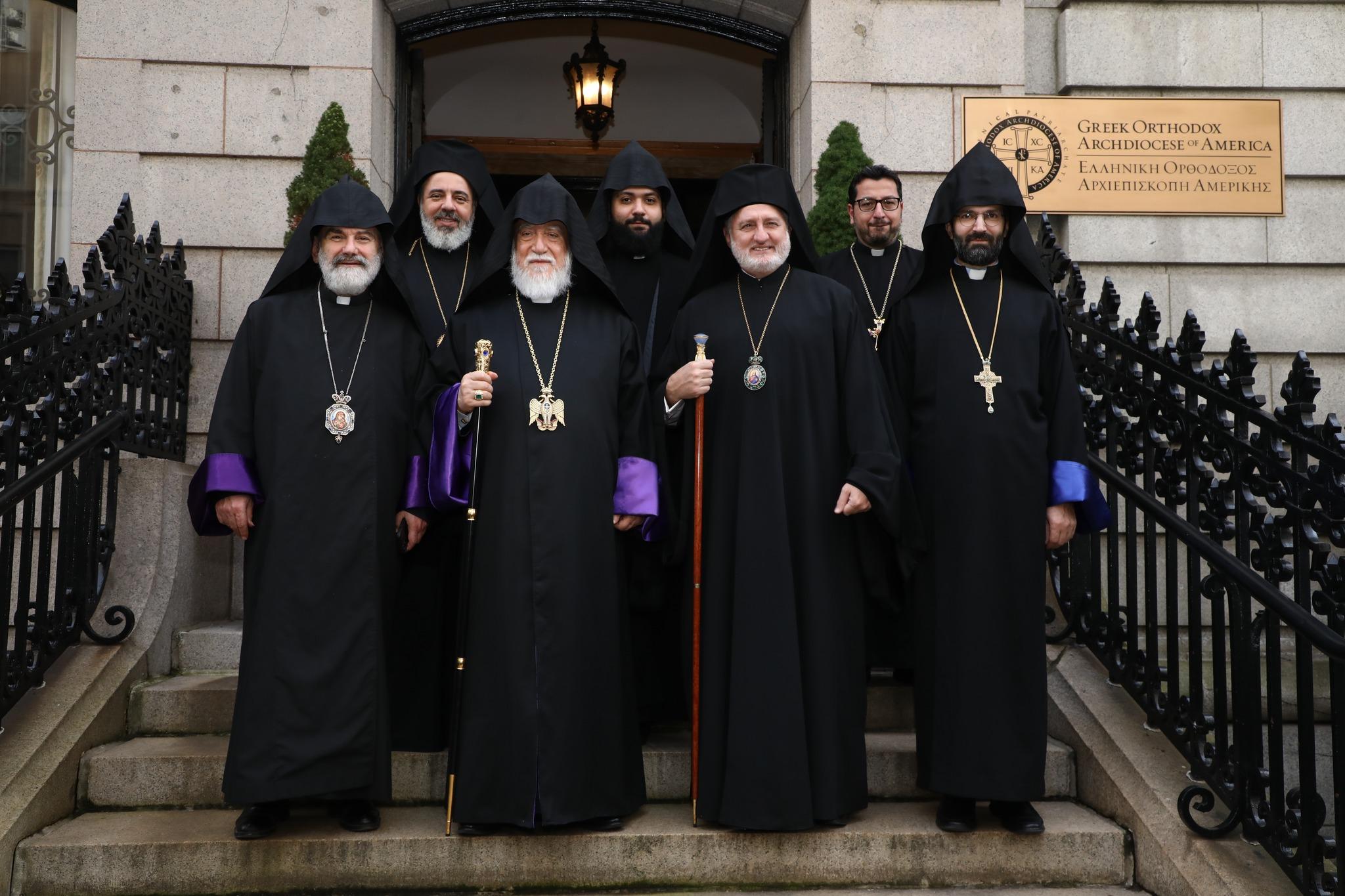 armenianorthodoxchurch.org – OCP News Service – 18/11/2023
New York – U.S.A: His Holiness Catholicos Aram I paid a visit to the Headquarters of the Greek Orthodox Archdiocese of America on 17 November 2023. During this visit, he was honored as the distinguished guest of His Eminence Archbishop Elpidophoros of America.
Archbishop Elpidophoros extended a heartfelt welcome to His Holiness and his pontifical delegation for their visit to the USA and the Archdiocesan headquarters. In his welcoming address, he remembered the Catholicos as a distinguished leader, especially in the ecumenical world, whose leadership and spiritual virtues he has personally known for years. On this occasion, Archbishop Elpidophoros conveyed the fraternal greetings of His All Holiness Ecumenical Patriarch Bartholomew. Concluding his speech, he presented His Holiness with a pectoral Panagia.
In turn, Catholicos Aram I expressed his joy at visiting the Greek Orthodox Archdiocese for the second time, approximately 25 years later. His Holiness reflected on the historical relationship between the Armenian and Greek churches and emphasized two crucial aspects: the historical ecumenical relations between the two churches and the theological dialogue among the orthodox churches. These aspects, he noted, carry on the legacy of collaboration from the past. Concluding his speech, His Holiness presented the archbishop with the official catalog of the Catholicosate of Cilicia.
At the official luncheon honoring His Holiness, Archbishop Elpidophoros once again spoke, emphasizing His Holiness's substantial role in promoting cooperation between churches. During this event, the archbishop expressed his willingness to welcome seminarians from the Holy See of Cilicia to their Seminary.
His Holiness was accompanied by His Eminence Archbishop Anoushavan Tanielian Prelate of the Eastern Prelacy; Very Rev. Sahag Yemishian, Vicar of the Eastern Prelacy; Very Rev. Hovagim Panjarjian, Media Officer of Catholicosate of the Holy See of Cilicia; Very Rev. Sarkis Aprahamian, Staff bearer; Rev. Fr. Nareg Terterian, Pastor, St. Sarkis Church in Queens, NY.
His Eminence Archbishop Elpidophoros of America was joined by His Grace Bishop Athenagoras of Nazianzos; V. Rev. Archimandrite Nektarios Papazafiropoulos, V. Rev. Archimandrite Vaseilios Drosos; Rev. Protopresbyter of the Ecumenical Throne Panagiotis Papazafiropoulos; Rev. Protopresbyter Nicolas Kazarian, Rev. Archdeacon Dionysios Papiris & Mrs. Elaine Allen.
Source:
OCP News Service and armenianorthodoxchurch.org