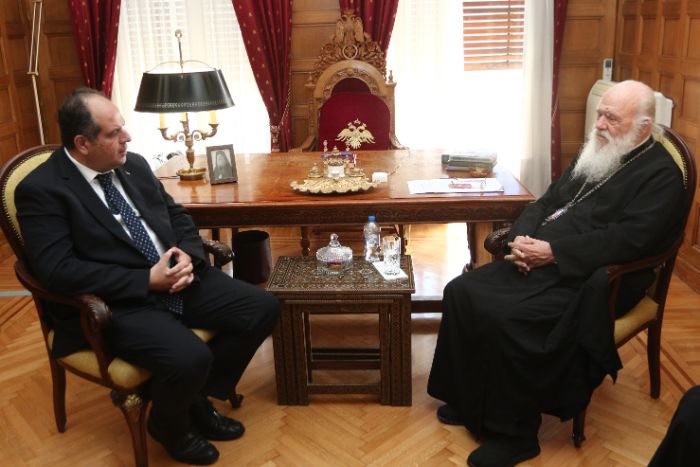 Archbishop of Athens Urges Immediate Ceasefire and Humanitarian Aid for Gaza During Visit by Palestinian Ambassador
OCP News Service – 20/11/2023
Athens- Greece: In a solemn meeting held on 15 November 2023, Archbishop Ieronymos II of Athens and All Greece expressed profound shock over the dire situation in Gaza. The meeting, attended by the Ambassador of Palestine to Greece, Yussef Dorkhom, became a platform for impassioned pleas for an immediate end to the ongoing conflict and the initiation of dialogue.
Ambassador Dorkhom shared distressing statistics, revealing that the death toll in Gaza has surpassed 12,000, with over 5,000 children and 4,000 mothers among the victims. He reported the bombing of a hospital by the Israeli army, making communication nearly impossible, and highlighted the destruction of half of Gaza's hospitals, leaving 2.5 million Palestinians without essential medical care.
Expressing his dismay, the Ambassador declared, "There is no justification for the death of civilians, attacks on hospitals, churches, and mosques. The children need protection." He also disclosed that despite Greece's efforts to send humanitarian aid to Egypt, there are obstacles preventing its transportation from Egypt to Gaza, with Israel imposing restrictions.
The Archbishop echoed the call for an end to the war, emphasizing the urgency of the situation. "Children and civilians, in general, have rights to life," he asserted. The religious leader recounted recent meetings with representatives of Israeli families abducted in Gaza and Professors of the University of Religions and Beliefs of Iran. He highlighted joint declarations calling for peace and dialogue.
"We, as religious leaders, join our voices and call for an end to the war and for discussions to begin, in order to reach peace," said the Archbishop, pledging to facilitate the delivery of humanitarian aid. He expressed regret for the situation in Gaza and assured the Ambassador of his commitment to peace efforts.
In a poignant request, Ambassador Dorkhom urged the Archbishop to meet with Greeks of Palestinian origin who lost their families in Gaza or who were unable to leave. This appeal adds a personal dimension to the crisis, emphasizing the human toll on families torn apart by the conflict. The Archbishop affirmed his dedication to these efforts, further underlining the importance of international cooperation to bring an end to the suffering in Gaza.
Source:
OCP News Service and ecclesia.gr