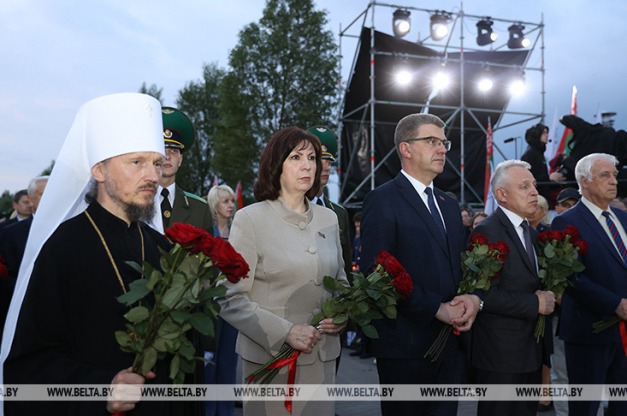 'The Trouble Did Not Come Through the Second World War or Adolf Hitler, It Began When the Wrong thought and Feeling of Exaltation over Others Began to Enter Into the Hearts and Minds of People': Metropolitan Benjamin of Belarus
OCP News Service – 24/06/2023
Minsk-Belarus: Metropolitan Benjamin of Minsk and Zaslavl, Patriarchal Exarch of All Belarus participated in the Day of Remembrance of the victims of the Great Patriotic War and the genocide of the Belarusian people which was held at the Trostenets memorial on June 22, 2023.
After laying flowers with other dignitaries Metropolitan Benjamin said:
"Here, at the Gates of Memory, we sadly recall that the Great Patriotic War began, that it brought suffering, sorrow, and loss to our people. The trouble did not come on June 22 or September 1, 1939, when the Second World War began. And not even when Adolf Hitler came to power in Germany. It began earlier, when the wrong thought, the wrong feeling of exaltation over other people began to enter into the hearts and minds of people. It took a lot of work for all of humanity to overcome the consequences of this misanthropic ideology."
"And it is very important now, when we remember the mournful years of history, to do everything so that this evil does not happen again on our land. Moreover, in order to testify to other countries and peoples about the disastrous nature of this ideology, relying on the memory of the people, which lives in every person, in every Belarusian, regardless of his age, may the eternal memory remain in our hearts about the feat of the deceased. And for us, the living ones, God forbid that we be worthy of the memory of previous generations".
The Trostenets Memorial complex was built on the site of the concentration camp of the same name, which operated during the Second World War. This is the largest death camp on the territory of Belarus and the former Soviet Union, which contained citizens from all the republics of the USSR, as well as from Austria, Germany, Czechoslovakia and Poland. The Trostenets death camp was established in the fall of 1941 and operated until July 1, 1944. It included the Shashkovka tract (the place of mass burning of people), the Blagovshchina tract (the place of mass executions of people), the village of Maly Trostenets (the death camp itself).
In 1963, an obelisk with an eternal flame was erected on the site of the former camp. In 1965 – a monument at the place of burning people. In 2002, a memorial sign was erected at the place of executions, and in 2015, the Gates of Memory memorial was erected.
In total, more than 200 thousand people of all ages and nationalities were killed in the Trostenets death camp.
Source:
OCP News Service