Pope Tawadros II Receives the Lebanese Minister of Information
OCP News Service 21/09/2022

Cairo – Egypt: Pope Tawadros II of Coptic Orthodox Church received the Lebanese Minister of Information, Ziad Al-Makari on 20th September 2022 at Papal Residence in Cairo. The meeting was in a cordial atmosphere. Pope Tawadros spoke about the Coptic Church, its history, and its current role in supporting the causes of the homeland. He also spoke about the ancient history of Egypt, praising the development that took place in it under the new republic led by President Abdel Fattah El-Sisi and stressed that Lebanon has a special love for  Egyptians in general, noting that he is still praying for Lebanon's stability. Lebanese Minister's visit to Egypt is to participate in the Arab Ministers of Information Conference.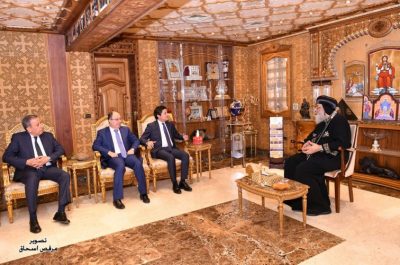 Ambassador Ali Al-Halabi, Lebanon's ambassador to Egypt, Counselor Boutros Franjieh, legal advisor to the Lebanese Minister of Information, and the Monk Fr. Kyrillos St. Bishoy, the director of Pope's office attended the meeting. 

Source:
OCP News Service