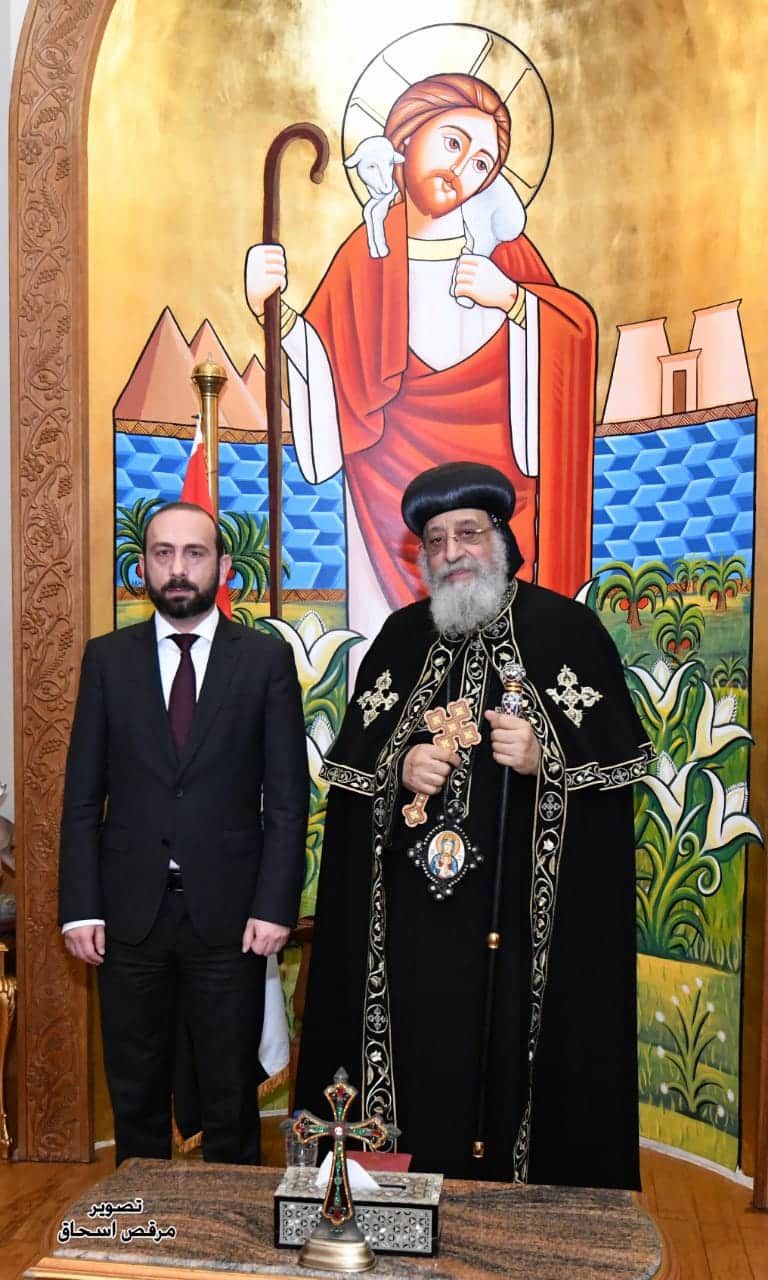 Pope Tawadros II Received Ararat Mirzoyan
Gerges Mounir Hanna – OCP News Service – 09/03/2023
Cairo – Egypt: His Holiness Pope Tawadros II received Ararat Mirzoyan, Minister of Foreign Affairs of the Republic of Armenia, at the Papal Residence in Cairo on March 08, 2023. Ararat Mirzoyan was accompanied by the Armenian Ambassador of Cairo, Harachia Poladian.
H.H. welcomed his guest and his companions and expressed his appreciation for the excellent relations between Egypt and Armenia, and between His Excellency President Abdel Fattah El-Sisi and the President of the Republic of Armenia, His Excellency Mr. Vahagen Khachaturian.
H.H. also commended the close relationship between the Coptic Orthodox Church and its sister Armenian Church, and the love that unites His Holiness with His Holiness the Catholicos Karakin, Patriarch of Armenia.
His Holiness spoke about the Coptic Orthodox Church, pointing out that it is an ancient church that is two thousand years old and its founder is St. Mark the Apostle, and that the Church serves the nation through its keenness to establish schools and medical centers that provide services to all Egyptians.
H.H. mentioned that the Egyptians have a special relationship with the Nile River, so they live near it, and it is rich in civilizations that have been established on its land.
For the part of the Armenian Foreign Minister expressed his happiness to visit Egypt, expressing his appreciation for His Holiness the Pope's reception of him, and mentioned the strong relationship between Armenia and Egypt, referring to the visit of His Excellency President El Sisi to Armenia, a visit that was highly appreciated by Armenia, as it is the first visit by an Egyptian president, to his country.
The Minister of Foreign Affairs of Armenia also explained the dimensions of the conflict in Nagorno-Karabakh and the negotiations to resolve this ancient conflict, asking for prayers to solve this problem.
Source: Coptic Orthodox Church
OCP News Service