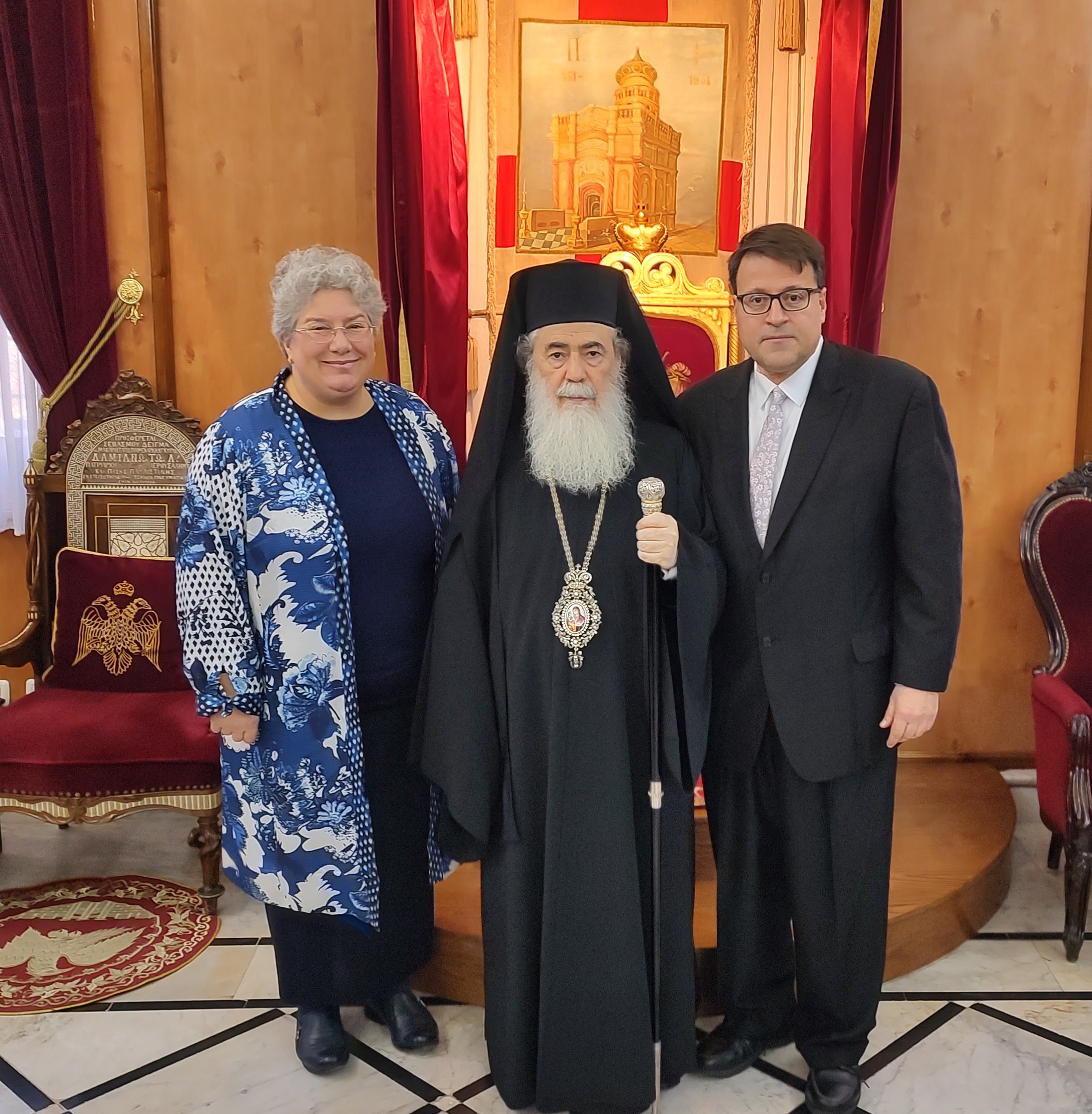 OCP@15: His Beatitude Patriarch Theophilos III of Jerusalem Received OCP Chairman
OCP News Service – 31/12/2022
Holy Land- Jerusalem: Orthodoxy Cognate PAGE Chairman Dr. John G. Panagiotou and his wife Correna A. Panagiotou visited His Beatitude Patriarch Theophilos III of Jerusalem at the Greek Orthodox Patriarchate of Jerusalem on December 31, 2022.
During the lengthy, private meeting, many topics regarding theology, liturgy, worship, ecclesiology, higher education, and the role of the Church of Jerusalem in the world today were discussed. At the meeting, Dr. Panagiotou presented His Beatitude with copies of his publications The Path to Oikonomia with Jesus Christ as Our Lighthouse and Workbook Companion to The Path to Oikonomia with Jesus Christ as Our Lighthouse. The Patriarch then presented a replica icon of "Our Lady of Jerusalem" to the Panagiotous.
Jerusalem is the Mother Church of Christianity. As such, it is entrusted with being the standard-bearer of authentic apostolic Christian faith. In an attempt to fulfill its mission, His Beatitude has established the Holy Cross Theological Center in Jerusalem. He has invited Dr. Panagiotou to be a theological consultant in Church history for the Center and Correna Panagiotou to assist the Patriarchate in promoting its message on digital media platforms. Correna is a graduate of the prestigious military academy West Point and is one of the preeminent digital technology experts in the world.
Dr. Panagiotou was invited by the Patriarch to chant at the Sunday Orthros and Divine Liturgy at the Church of the Holy Sepulchre, which he did.
Source:
OCP News Service