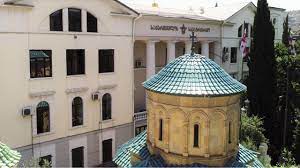 Georgian Orthodox Church Recognized and Entered into Communion with Macedonian Orthodox Church
OCP News Service – 01/03/2023
Tbilisi -Georgia: Holy Synod of the Georgian Orthodox Church recognized Macedonian Orthodox Church on its synod session that was held on February 14, 2023. The synod was held under the presidency of Catholicos-Patriarch of All Georgia, Archbishop of Mtskheta-Tbilisi and Metropolitan of Bichvinti and Tskhum-Abkhazia, Ilia II, which took several decisions including that of Macedonian Orthodox Church.
According to the synodal report:
The issue of the Macedonian Orthodox Church was discussed at the synod session. The chairman of the foreign department of the Patriarchate of Georgia, His Eminence Metropolitan Gerasime (Sharashenidze) of Zugdidi and Tsaish made a report. He introduced the members of the synod to the letter written to us by the head of the Serbian Church in which it is said that the schism has been healed and the Eucharistic connection with the Orthodox Church of North Macedonia has been restored and that the Patriarch of Serbia has given the tomos of autocephaly to the mentioned church. The autocephaly of the Macedonian Church, in addition to the Serbian Church, was also recognized by the churches of Russia, Bulgaria, Romania, the Czech Republic and Slovakia. However, without recognizing the autocephaly, the following churches of Constantinople, Antioch, Hellas and Poland joined the Eucharistic union with it.
The Holy Synod decided: the Church of Georgia should enter into a Eucharistic union with the Orthodox Church in North Macedonia, headed by His Beatitude Archbishop Stephen (Velianovski).
The Holy Synod of Bishops of the Serbian Orthodox Church unanimously recognized the Autocephaly of the Macedonian Orthodox Church in June 2022. Later Antiochian, Russian, Bulgarian, Ukrainian, Romanian, Czech-Slovak, and Polish Orthodox Churches also accepted the autocephaly of the Macedonian church. The Ecumenical Patriarchate of Constantinople, Greek, Albania, and Georgia has recognized the Macedonian church but has not yet recognized the autocephaly given by Serbia, but has recognized the communion.
Source:
OCP News Service