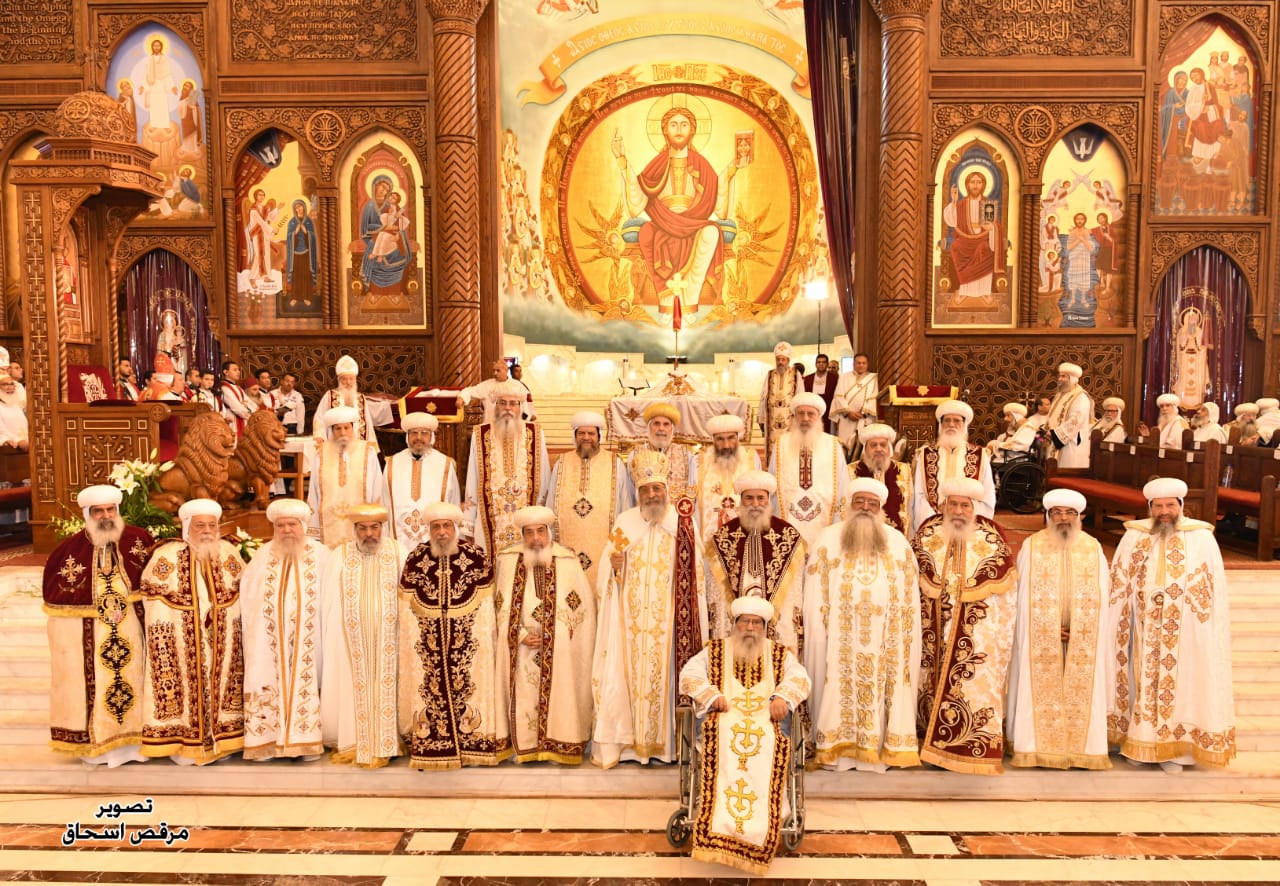 Eleven New Metropolitans Consecrated for the Coptic Orthodox Church
Gerges Mounir Hanna – OCP News Service – 20/11/2022
Cairo – Egypt: H.H. Pope Tawadros II ordained 11 Bishops from different Dioceses to Metropolitans, eight of which are Bishops from Upper Egypt, two Bishops are from Cairo Dioceses, and one Bishop from a Diocese in the United States during the liturgy that was celebrated in St Mark's Cathedral, Cairo on November 20, 2022.
H.H. prayed the Liturgy at St Mark's Cathedral this morning, and after the Praxis reading, H.H. ordained the new Metropolitans. The Liturgy was attended by Metropolitans and Bishops of the Holy Synod and Patriarchal Vicars of Cairo and Alexandria, and the Cathedral was filled with filled priests and congregation of different dioceses.
H.H. gave a speech before the ordination where H.H. mentioned that the Bishops who are getting ordained have been serving as Bishops for more than 30 years, where they have made great efforts in their pastoral services.
H.H. described the definition of ordination where H.H. said: "Ordination in our Church means more service, love, humbleness and gentleness. The finest service we have in our Church is washing the feet, as our Lord Jesus Christ has done on Covenant Thursday".
The Bishops that are ordained are:
H.E. Metropolitan Barsoum, Metropolitan of Dairout & Sunbo and Abbot of St. Mary & Archangel Michael Monastery
H.E. Metropolitan Bakhoum, Metropolitan of Sohag, Manshaa & Maragha
H.E. Metropolitan Demetrius, Metropolitan of Melawi, Ansina & Ashmonin and Abbot of Abo Phana & Elbatoul Monasteries
H.E. Metropolitan Aghabios, Metropolitan of Der Mouas & Dalija
H.E. Metropolitan Tomas, Metropolitan of Qusiyyah & Mir
H.E. Metropolitan Danial, Metropolitan of Maadi, Basatin & Dar El-Salam and Holy Synod Secretary
H.E. Metropolitan Sharoubeem, Metropolitan of Qina & Qift
H.E. Metropolitan Biemen, Metropolitan of Naqada & Qous and Abbot of Archangel Michael's Monastery, Assas Mount
H.E. Metropolitan Takla, Metropolitan of Dishna
H.E. Metropolitan Maximous, Metropolitan of Banha & Quwaysna
H.E. Metropolitan Youssef, Metropolitan of Southern USA
During the sermon, H.H. spoke about the Gospel reading which is the second Sunday in Hathor.
H.H. spoke about the importance of the ears in a human's life, referring to the verse "He who has ears to hear, let him hear" (Luke 8:8), which was read in today's Gospel and is also repeated during the first three weeks of the month Hathor and it directs us to spiritually listen.
H.H. mentioned that on the last Sunday in Hathor, the church offers to us a negative example which is the "The Rich Man" who failed to listen. Also, the month of Kiahk is starting soon which through it we see the positive example of Saint Mary when the angel announced to her so she listened and obeyed, that's why we call the Nativity Fast is the fast of fixing our ears.
Source: Coptic Orthodox Church
OCP News Service