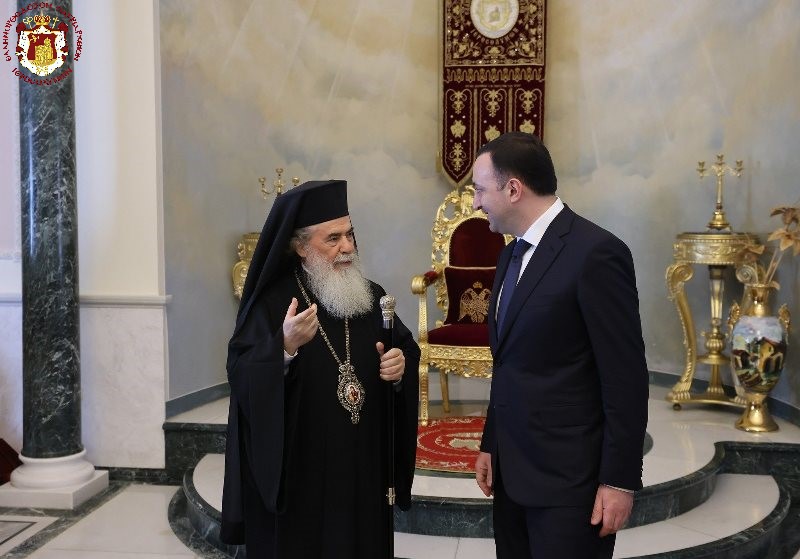 Prime Minister of Georgia Visited Patriarch Theophilos of Jerusalem
OCP News Service – 20/07/2023
Jerusalem-Holy Land: Prime Minister of Georgia, Irakli Garibashvili visited the Patriarch of Jerusalem Theophilos III on August 17, 2023, at Patriarchate. The PM was accompanied by the Ambassador of Georgia to Israel Lasha Zhvania.
According to Patriarchate:
His Excellency the Prime Minister and his delegation were warmly received by H.H.B. our Father and Patriarch of Jerusalem Theophilos III, addressing him with the word "you are most welcome" and referring to the diverse work of the Patriarchate, pilgrimage, pastoral, unification of the Orthodox Churches and to its good relations with the Patriarchate of Georgia. His Beatitude wished the Prime Minister success in his visit to Israel and offered him an icon of the Sacred Edicule and the Theotokos.
His Excellency the Prime Minister referred to the peaceful work carried out by the Country of Georgia and to its promotion of human values and thanked His Beatitude for his support to the Georgians who come each time on a pilgrimage to the Holy Land and asked for the blessing to worship the Holy Sepulchre.
On the visit to the Holy Sepulchre, he was accompanied by the Elder Dragouman Archimandrite Mattheos and the Holy Sepulchre monks welcomed him, wishing him success in his visit.
Source:
OCP News Service