Deputy Prime Minister of Hungary Awarded with Russian Patriarchal Award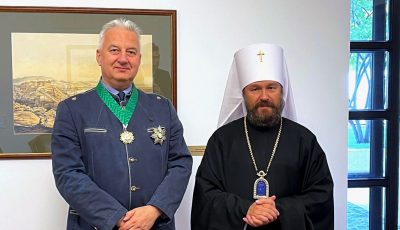 OCP News Service – 16/09/2022

Budapest-Hungary: The Deputy Prime Minister of Hungary and leader of the Christian Democratic Party Zsolt Shemien was awarded the Order of Glory and Honor ( Russian Patriarchal Award II degree) on 13th September by the Russian Orthodox Church. This high award was given to the politician by His Holiness Patriarch Kirill of Moscow and All Russia in consideration of the assistance of the Budapest-Hungarian diocese and in connection with the 60th birthday. Metropolitan Hilarion of Budapest and Hungary presented the award to the Deputy Prime Minister. 
In response, the Deputy Prime Minister of Hungary expressed heartfelt gratitude to the Primate of the Russian Orthodox Church and stressed that he perceives activities for the benefit of his country as a service to Christ. During the conversation, Metropolitan Hilarion discussed with  Shemien various aspects of the interaction between the Budapest-Hungarian Diocese of the Moscow Patriarchate and the Hungarian state authorities, in particular, the continuation of restoration work at the Assumption Cathedral and other churches of the diocese. 
Source:
OCP News Service