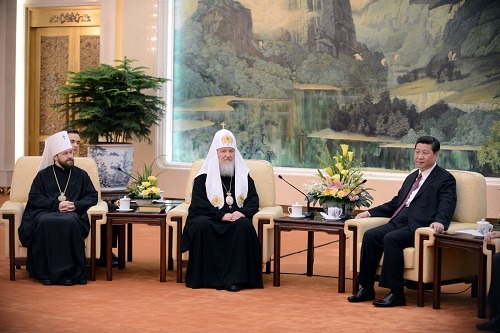 Patriarch Kirill of Russia – the Only Religious World Leader Received by the President of China
OCP News Service – 10/9/21
Moscow- Russia: According to a recent report published by asianews.it, Patriarch Kirill of Moscow and All Russian (primate of the Russian Orthodox Church) is the only world religious leader who have met the President of the People's Republic of China. This was mentioned in the report titled 'Moscow Patriarchate reaches out to Orthodox Church in China'.
The autonomous Chinese Orthodox Church is under the canonical jurisdiction of the Moscow Patriarchate. Even though not officially recognized by the state, there are three to four Orthodox communities in China. A 1997 agreement with the Chinese authorities enables the Russian Church to cater the needs of the Chinese Orthodox Church. However the Church lacks a Bishop.
Patriarch Kirill visited China in 2013 and was received by the President Xi Jinping.  Interestingly, Xi Jinping spoke highly of the Russian Church during the meeting. He stated that the Russian Church plays an active role in supporting  the development of China-Russia relations. Moreover, the Patriarch celebrated liturgy at the Russian embassy in Beijing, at the Church of the Protection of the Mother of God in Harbin and at the Shanghai Cathedral. The dialogue between China and the Russian Church has resulted a few Chinese to enter Russian seminaries. Apart from Patriarch Kirill, Metropolitan Hilarion, the Chairman of the External Church Relations made a few trips as well.
The Moscow Patriarchate hopes to gain more recognition for the Church in near future as well as to unite all Eastern Orthodox Christians in China under the Chinese autonomous Orthodox Church .
Source:
OCP News Service