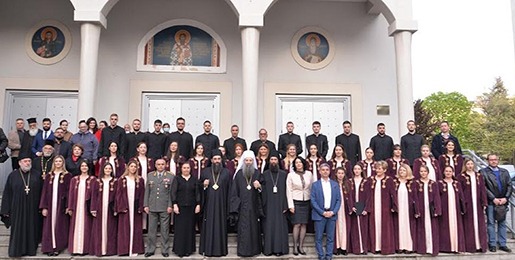 The Serbian Patriarch opens the Museum of the Church Antiquities of the Diocese of Nis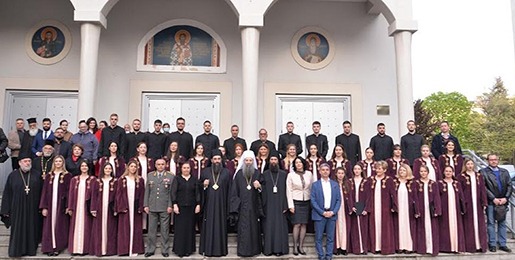 Church of Serbia – 26/4/21
His Holiness Porfirije, the Serbian Patriarch, ceremoniously opened a newly formed Museum of Church Antiquities of the Diocese of Nis in the presence of His Grace Bishop Arsenije of Nis, and distinguished guests, during his first official visit to the Diocese of Nis, on April 23, 2021.
On behalf of the Ministry of Culture and Information of the Republic of Serbia, which financially supported the establishment of the Museum, Dr. Dejan Maslikovic attended the opening ceremony.
At the beginning of the ceremony, the Bishop Arsenije of Nis blessed the beginning of the work of the Museum and greeted the high guests, reminding those present of the glorious history of the Diocese of Nis, which the museum objects testify to.
Then His Holiness Porfirije , Serbian Patriarch ceremoniously opened the Museum, in which, as of today, the hierarch's robes of Serbian Patriarch Irinej of blessed repose will be exhibited, as well as other personal belongings that His Holiness  Porfirije, Serbian donated to the Museum.
The formation of the Museum of Church Antiquities of the Diocese of Nis began in 2018, with the blessing of Bishop Arsenije of Nis, with the great help of the Ministry of Culture and Information, which in the period from 2018 to 2021 supported several important phases in forming the Museum. Protodeacon Dalibor Midic, archivist of the Diocese of Ns, also invested a lot of effort, with whose great effort and dedication the Museum of Church Antiquities of the Diocese of Nis was re-established after a long time.
The Museum will exhibit objects of great spiritual significance that were not available to the public in the recent history of the Diocese. The exhibited objects lead observers through the centuries of glorious history of the former Metropolitanate, and today the Diocese of Nis. It is difficult to count all the valuable artifacts, but we should definitely single out the collection of old and rare books, the oldest of which dates from 1592. It is about the liturgical book General Menaion
for May. The museum will also display gifts that the Russian Tsar Nikolai II Alexandrovich donated to the Nis Cathedral church, as well as personal belongings of famous Nis metropolitans and bishops.
The Museum will also exhibit an old ark in which the relics of St. George from the Prokuplje church of St. Procopius are kept, as well as rare icons, old photographs and archives of great importance for researchers in the field of theology, history, culture and archiving. Important works of art certainly occupy a special place in the rich fund of the Museum: two paintings by one of the most famous Serbian realist painters Djordje Krstic – Portrait of King Milan from Curlin Church (1902) and Death of Prince Lazar (1885) and Portrait of a Saint, work from 1880 by one of the most prolific Serbian romantic painters Stevan Todorovic.
Radio Voice and Media-Information Service of the Diocese of Nis