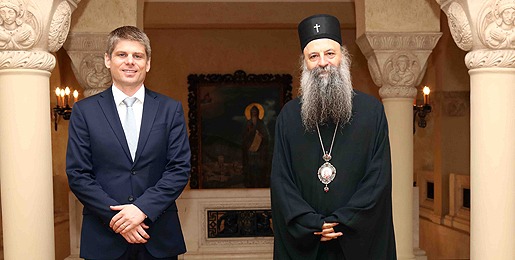 Serbian Patriarch receives Director of the Office for Cooperation with the Diaspora and the Serbs in the region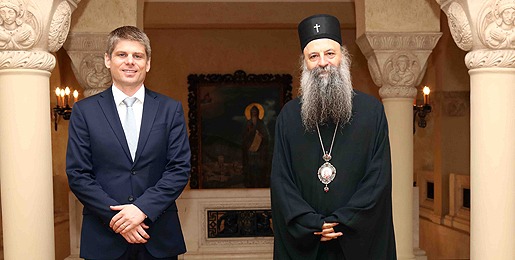 Church of Serbia – 26/7/21
His Holiness Porfirije, the Serbian Patriarch, received Director of the Office for Cooperation with the Diaspora and the Serbs in the Region Mr. Arnaud Gouillon at the Patriarchate Palace in Belgrade on 21 July 2021.
During the meeting with Director Gouillon, the primate of the Serbian Orthodox Church discussed projects that promote cooperation and ties between Serbs in the world, the region and the homeland. Patriarch Porfirije expressed satisfaction that the Serbian Orthodox Church has a key role in that process and stressed the importance of holy worship, religious education and the Serbian language, folklore events and spiritual and scientific lectures in Serbian Orthodox churches around the world.
Director Gouillon mentioned that the state of Serbia, through the realization of numerous concrete projects, testifies that it cares very much about the connection between Serbs in the region, the world and the homeland, and that it enjoys the support of the Serbian Orthodox Church on that issue.
The audience was attended by an official of the Office for Cooperation with the Diaspora and Serbs in the Region, Mr. Stefan Morovic and the head of the Office of the Serbian Patriarch Deacon Aleksandar Prascevic.