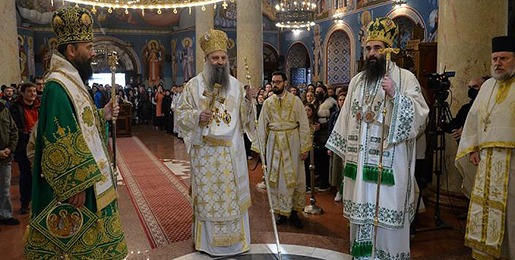 Serbian Patriarch Porfirije celebrates the Holy Liturgy in Nis on Lazarus' Saturday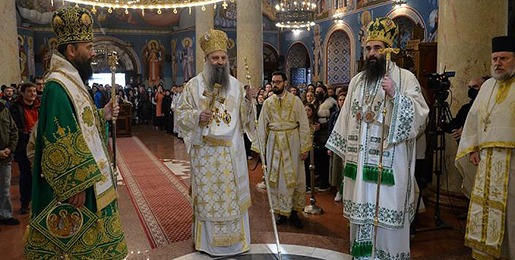 Church of Serbia – 26/4/21
His Holiness Porfirije, Serbian Patriarch celebrated the Holy Hierarchal Liturgy with the concelebration of Their Graces Bishops Ilarion of Timok and Arsenije of Nis, in the Cathedral church of the Descent of the Holy Spirit on the Apostles in Nis, on April 24, 2021, on Lazarus' Saturday. 
Among concelebrants also were: protopresbyter-staurophor Milutin Timotijevic, head of the Theological Seminary "Saints Cyril and Methodius" in Nis; protopresbyter-staurophor Branislav Cincarevic, head of the Cathedral in Nis; protopresbyter-staurophor Nanad Mikic; hieromonk Sava (Bundalo); archpriest Miodrag Pavlovic, Diocesan Deputy of Nis I; archpriest Zlatko Vasilic, Diocesan Deputy of Nis II; protosynchellos Nektarije (Djuric) and deacons Radomir Vrucinic, Vuk Jovanovic and Djordje Filipovic.
After the reading of the Holy Gospel, His Holiness Patriarch held a sermon, teaching the faithful about the great feast of the Resurrection of four-day Lazarus.
Archpriest Borislav Stamenkovic, Archpriest Dejan Krstic and Archpriest Vladica Savic chanted troparions, while the Nis Church Choir "Branko" sang responses.
The liturgy was adorned by the presence of numerous children who are especially looking forward to the holiday of Lazarus' Saturday.
His Grace Bishop Arsenije of Nis, at the end of the Holy Eucharist, addressed His Holiness the Patriarch, thanking him for the paternal blessing he brought to the Diocese of Nis with his visit, and in memory of the great day, handed the Patriarch a symbolic gift of brotherly love.