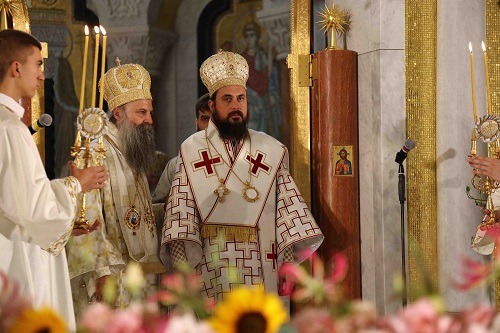 Bishop Justin of Hvosno Consecrated Vicar of the Serbian Patriarch
OCP News Service – 15/9/21
Belgrade-Serbia: Archimandrite Justin (Jeremic) was elevated as the Bishop of Hvosno and as the Vicar of the Serbian Patriarch at the St. Sava Saint Cathedral on the 12th of September 2021. The consecration ceremony was presided by Patriarch Porfirije of Serbia.
"Dear Bishop Justin, today you have been elevated to the highest service in the Church of Christ. You received the greatest possible honour by the descent of the Holy Spirit in the same way that He descended on the day of Pentecost and constituted the Church of Christ in the world. The service of the Bishop is par excellence the service of Christ. And that means that in addition to the honour you received, you were given the responsibility to serve the Holy Liturgy in the name of Christ, and I want to put that on your heart. The Holy Liturgy is truly your task and the task of all Bishops. If it were nothing else, if only that, you have fulfilled your service, because if we serve the Holy Liturgy and if everything is based on it, everything else will be done at the right time and in the right measure" stated Patriarch Porfirije in his speech.
Several Prelates, many faithful and representations from various Churches and organizations took part in the event.
Source:
OCP News Service