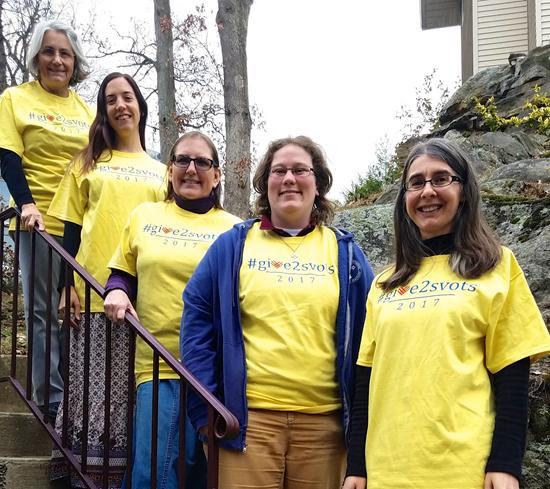 Why would a woman study theology?
SVOTS – November 2017
As a woman seminarian at St. Vladimir's Seminary in the mid-70s, I often was asked the ubiquitous question: "Why would a woman study theology? She cannot be ordained."
But since my own graduation, I've observed the answer to that question a hundred times over.
I've seen our alumnae become extraordinary educators, hospital chaplains, monastics (abbess included), scholars, liturgical musicians, retreat leaders, iconographers, ecumenists, missionaries, and authors. I've witnessed some juggle a professional career while faithfully executing their church ministry. I've encouraged those—who like me—walked the demanding path of a clergy wife while integrating their seminary education into parish life in so many ways.
It's been an honor to be part of this special sisterhood, which constantly reminds me of St. Paul's words to the Ephesians (4.11–16):
And it is He who gifted some to be apostles, others to be prophets, others to be evangelists, and still others to be pastors and teachers,  to equip the saints, to do the work of ministry, and to build up the body of Christ until all of us are united in the faith and in the full knowledge of God's Son, and until we attain mature adulthood and the full standard of development in Christ.
"Why would a woman study theology?" Because she loves Christ and His Church, and she wants to obey Him in serving and building up His body, in accordance with call of the Spirit and the discernment of the community of the faithful.
Take for example, Alumna Dr. Tracy Gustilo, a member of the Orthodox Church in America, who already has earned a Master of Arts degree at St. Vladimir's and now is in the Master of Theology program. In between her program studies, she served as an instructor for a Midwest Diocesan program, the "St. Macrina Institute for Diakonia and Catechesis," and I asked her about the focus of her current research and future plans.
"I get to read deeply in the primary texts of our tradition: Scripture, the church fathers, and liturgical texts," she explained. "For my thesis I'm working on the earliest church fathers' understanding of Pascha.
"The next time I get to say 'Christ is risen,' I hope to have a deeper understanding of that central gospel proclamation. I hope to be able to share it in writing, and teaching, and in the mission field." (View a video of Dr. Gustilo here.)
I've come full circle: from seminarian to alumna to clergy wife/author to seminary employee, and I've witnessed the commitment, faith, and dedication of so many women seminarians and alumnae traveling along many paths. Their bright minds and zeal for Christ greatly benefit the Church.
So, now, when asked that ever-present question, "Why would a woman study theology?", I simply respond, "Because we women also are members of Him."
Lastly, please remember: St. Vladimir's Seminary prepares men and women to serve the Church, and so, I'm asking once again for your support of our school on #GivingTuesday by giving an online gift to fund its ministrytomorrow. Please give2svots on Tuesday, November 28.