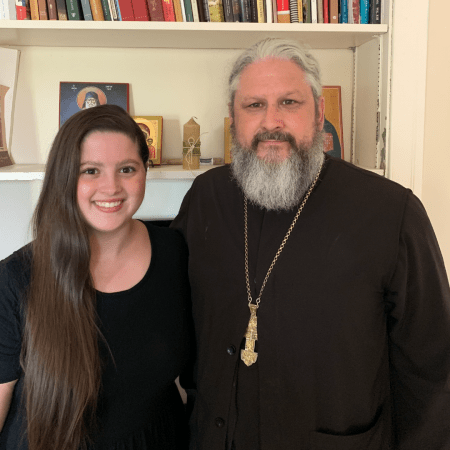 SVOTS Alumnus, Daughter Create Ministry to Deaf Orthodox Christians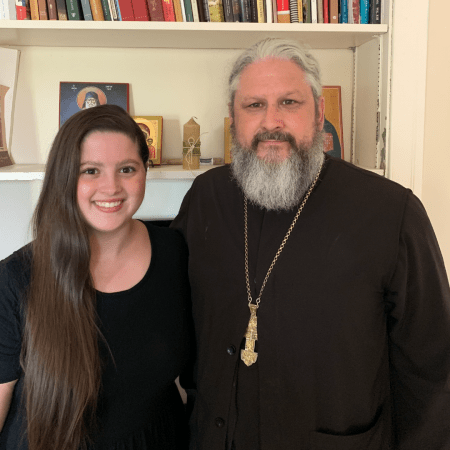 SVOTS – 19/9/2020
Recognizing a great need in the Orthodox churches in North America, St. Vladimir's Seminary Alumnus Fr. Jason Foster and his daughter Savannah recently formed the Orthodox Christian Deaf Association (OCDA). Father Jason serves the community of Holy Nativity of the Lord (OCA) in Shreveport, LA. 
I'm 19 now, but my interest in learning ASL actually began when I was 16 when I made attempts to communicate with some deaf people while shopping in Barnes and Noble.
In order to reach the door, I needed to walk through the middle of their conversation, so on the spot I looked up how to sign the phrases "excuse me," "thank you," and "have a good day" on my phone! This encounter with them energized me, and after this I taught myself sign language using YouTube videos. After about six months of online learning, I visited our local Deaf Action Center and met a deaf friend, Greg, who has subsequently been helping me for three years. He teaches me mainly through our conversations—when I make a mistake, he corrects me.
How has your experience of learning ASL progressed?
I'm not going to lie—truth is, ASL is a difficult language to learn! While it's good to watch beginner videos, at some point you need to immerse yourself in it by interacting with people who are fluent in ASL, both deaf and hearing.
In my first year, I couldn't understand most of the conversations I observed. As my vocabulary began to increase, I slowly developed the skills needed to engage others in communication. By the end of my second year, I was able to think through my conversations and sign in a more coherent manner. Now, in my third year, it's becoming easier. It takes time, immersion, and patience!
Recently I recorded my teacher signing sections of the Divine Liturgy, and then I tried it myself. I've also signed The Akathist of Thanksgiving. Sometimes I practice by signing the weekday services when only a limited number of people are in attendance—I do not want to distract others. At one point, I asked my dad, "What if someone who is hearing impaired comes to our church and can't understand the services?" We looked around to find Orthodox resources here in North America, and we couldn't find anything. That was the genesis of the Orthodox Christian Deaf Association.
Father Jason, what are the needs of the deaf and hard-of-hearing communities? 
Our Association has been formed to for three main reasons: First, we want to help connect Orthodox deaf Christians across the continent to each other; second, we need to develop liturgical and educational resources that are accessible to the deaf and HOH; and, lastly, there is a great need to bring the fullness of the Christian faith and life in Christ to this community. The deaf and hard of hearing (HOH) are, in many ways, an unreached people group.
In order for this plan to become a reality, those in the various hearing-impaired communities need to connect with each other—often they feel isolated and alone. If we think we're isolated as Orthodox, imagine what it's like being deaf or hard of hearing! Often someone who is deaf may be the only one in the neighborhood with this challenge. Like all of us, they are looking for community and relationships.
We decided that the most immediate need was for a centralized location, a website so that these folks could find and interact with each other. That way, hearing-impaired people can find out about us and contact us if they have visited an Orthodox service and can't understand what is taking place. In our research, and talking to our local deaf friends, we have learned that sadly many people who are deaf or hard of hearing chose not to attend church services anymore. We heard stories of others who visited an Orthodox church but they were not able to connect due to the lack of ASL trained people and resources. Consequently, they went to other faith traditions that offered this type of ministry. In regards to Orthodoxy, many deaf and HOH have not been evangelized in a way appropriate to their unique needs.
This said, the Orthodox Church does have a great deal to offer the hearing impaired: namely, the physical or holistic nature of our worship. It includes our bodies (the sign of the cross, lighting candles, prostrations, etc.) and our senses (the fragrance of the incense, engaging the icons, the Sacraments, etc.). We have much to give this community in their interaction and experience of the gospel but we haven't collectively reached out to them, so we have our work cut out for us!
However, the Orthodox Church is still relatively new to North America and our history is replete with the many challenges faced by immigrants bringing the faith from the mother countries. We are still in a pioneer phase in many respects, starting new ministries and outreach efforts. Yet we are convinced that the time has come for us to get serious about reaching people with disabilities.
What are the goals of OCDA?
We had modest goals when we launched the website—we didn't have any idea what to expect at first but we knew the need was great and we had to start somewhere. Our membership increased overnight once our work was profiled on OCA.org and Ancient Faith Radio. Out of the woodwork came a number of trained ASL people and several who work directly with the deaf community. Our website has received thousands of visitors and over sixty people have signed up to be ASL Consultants, Parish Ambassadors, or to offer some type of assistance. We've also received emails from parents of deaf children and from the deaf or hard of hearing Orthodox themselves who want to connect with each other and, in some cases, learn how to sign the services. The ministry is taking shape before our very eyes as God moves us forward.
Thus far we have had really encouraging responses from various jurisdictions. We have been interacting with the OCA, Antiochian parishes, as well Greek, Bulgarian, and Serbian communities. Our hope is that eventually, it will be a "given" that our major metropolitan parishes will have people signing the liturgy. Ultimately, the goal of the OCDA is to bring awareness and solutions to the Orthodox deaf and HOH community as it relates to the local church. Again, this means that eventually the majority of our parishes, or at least those in larger cities, there will be someone who can sign the services and assist the priest in ministering to the deaf and HOH.  
What are your challenges?
In older Orthodox countries like Greece and Russia there are more defined ministries for the deaf and those with other disabilities, but in the US there is no collective effort or hub bringing the faithful together on a national level to minister in this arena. Yet we are beginning to have people who are willing to help now and become a part of the solution. As is often in the case in North American Orthodoxy, ministries need to be developed from the ground up. This means we are laying the foundation for the OCDA now with the hope that God will bless the seeds we are planting, others will water, and the next generation will realize the greater fruit.
This journey has been humbling for me as a priest in many ways. Until Savannah approached me with the question of the deaf and Orthodoxy, I had not even thought about the needs of the hearing impaired. Her statement, "Dad, what about those who cannot hear the Gospel?" still haunts me. We want to address this in our own parish, too! While it seemed like an easy fix in the beginning to reach the this community, the longer I have worked on this with Savannah, the more I have begun to realize that incorporating ASL into our liturgical lives is going to take a lot of work and a lot of time. Developing signs that communicate certain Orthodox theological concepts is complicated! For instance, the Orthodox idea of salvation has multiple aspects—how do you capture the full concept with theological accuracy through ASL? How about words like "Theotokos" or "consubstantial?" We are in the process of developing a team, national and international, that will address these issues and many others. Pray for us!
Eventually, I hope to be able to discuss the OCDA with seminarians. You build on what you learn and are exposed to at seminary throughout the rest of your ministry—so if I can present our work to future church leaders during their training they may keep those with disabilities in their minds as they enter their parish assignments.
What can faithful do to help?
Two immediate OCDA roles that we are trying to fill are ASL Consultants and OCDA Ambassadors. Our Consultants are those who know ASL and can both teach it to others and give us input as we create signing standards for services. We need help to form and develop consistent liturgical and educational materials for use in North America. Our Ambassadors will provide vital points of contact in parishes. They will distribute informative brochures, pamphlets, and posters, paying attention to the needs of the deaf and hard of hearing in their communities and communicating their needs back to us. In other words, they represent the OCDA to the deaf and HOH and the deaf and HOH to the OCDA.
Lastly, we need the prayers of God's people to strengthen and guide this new work. Saint Mark the Deaf, our patron, intercedes for us and we ask you do as well. Prayer, as in the rest of our Christian experience, is foundational to and for all that follows!
Learn more at orthodoxdeaf.org, or contact Fr. Jason and Savannah at orthodoxdeaf@gmail.com.
.