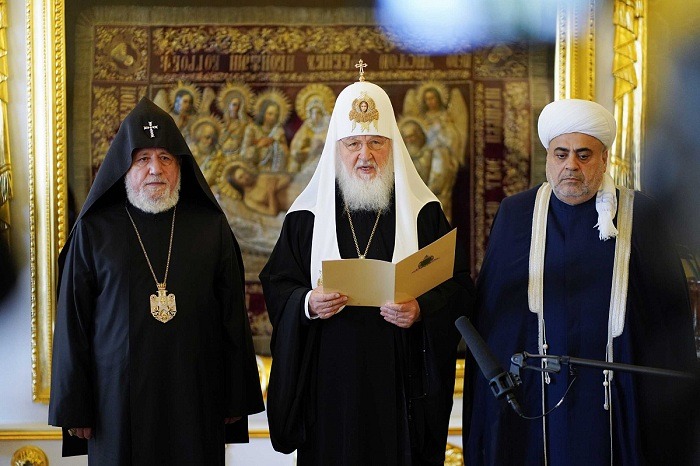 'Russian Church In Every Possible Way Will Help to Ensure Lasting Peace in the South Caucasus' – Patriarch Kirill of Moscow and All Russia
OCP News Service – 14/10/21
Moscow-Russia: A statement was issued by Patriarch Kirill of Moscow and All Russia, after the meeting with Catholicos-Patriarch Krekin II of All Armenian, and with Sheikh-ul-Islam Allahshukur Pashazadethe, chairman of the Caucasian Muslims Board at the Danilov Monastery in Moscow.
"I thank the venerable Patriarch-Catholicos of All Armenians Karekin II and the chairman of the Caucasian Muslims Office Sheikh-ul-Islam Allahshukur Pashazade for their willingness to meet and discuss complex problems that concern the residents and religious communities of our two fraternal partners.
We are convinced that our religions have unique peacemaking potential, especially in such a delicate and sensitive area as interethnic relations. No matter how difficult the Armenian-Azerbaijani relations are at this stage, we believe that it is faith in God and love that can help heal the wounds inflicted by many years of tragic confrontation. This is a very difficult path, it requires spiritual wisdom and foresight.
The Caucasus has always been famous for its huge diversity of peoples, languages ​​and cultures. For the Azerbaijani and Armenian peoples, there is no other future than living together. Today, it is especially important to restore people's trust in each other, again to learn to perceive a neighbour with respect and readiness for mutual assistance.
The key to such an appeal is respect for religious shrines, historical monuments and cemeteries, respect for the religious feelings of people of a different faith, careful preservation of the memory of the dead. Religious leaders are called upon to use their authority to create and maintain an atmosphere of good neighbourliness between various religious communities and people.
We urge you to clarify the fate of the missing, facilitate the process of releasing prisoners of war and prevent the unauthorized use of weapons that threaten the lives of civilians.
It is necessary to strive by all means to avoid the language of hatred, to refrain from calls for military action in the conflict zone. We call on young people not to succumb to the spirit of aggression and radicalism, to seek peace.
Religious leaders are ready to contribute to the reconciliation of the peoples of Azerbaijan and Armenia for the benefit and prosperity of the present and future generations.
The Russian Orthodox Church, for its part, prays for the reconciliation of people who remain close to her and is ready to continue in every possible way to help ensure that a lasting peace remains in the South Caucasus.
Source:
OCP News Service