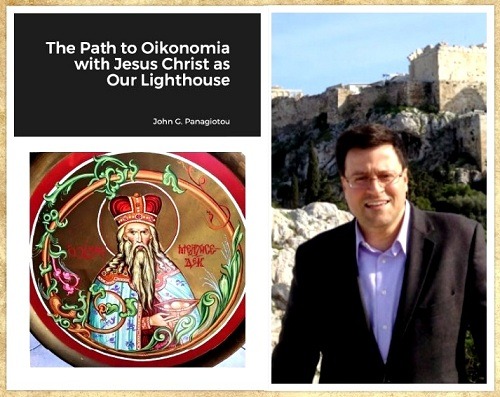 OCP Publications Announces the Release of Christian Stewardship Book
OCP News Service – 25/7/2020
Available on Amazon and LuLu Books 
OCP Publications is proud to launch a new book 'The Path to Oikonomia with Jesus Christ as Our Lighthouse' written by theologian and scholar Dr John G. Panagiotou. Rooted in the Biblical and Patristic faith tradition of Orthodox Christianity, this book explores the concept of Christian stewardship from its historical Christian contexts by providing a sound foundation for stewardship as a way of life. The reader will find how Christian stewardship is a fulfilment of one's personhood in Christ as a cooperative synergy between God and man in the mission of proclaiming the coming of God's Kingdom on earth.
John G. Panagiotou is an Orthodox Christian theologian and scholar who holds dual professorships at Erskine Theological Seminary and Cummins Memorial Theological Seminary. He earned a bachelor's degree from Wheeling Jesuit University, a master's degree from St. Vladimir's Orthodox Theological Seminary, and a doctorate from Erskine Theological Seminary. Dr Panagiotou specializes in Early Church History, Patristics, and Greek New Testament theology.
"The Church can rejoice in the publication of this beautiful book. Dr John G. Panagiotou has offered contemporary Christians a concise, yet comprehensive, roadmap back to the forgotten understanding of stewardship that animated Christian culture through the first six centuries of the common era. The appeal of his work can be seen by the many successful seminars he has led that have transformed the life and work of parishes where he has spoken. As Dr Panagiotou affirms, stewardship is a gift that deepens the believer's relationship with God and those in his community. We welcome this book on stewardship and pray that it will inspire many to be good stewards of their time, their talents, their treasures, and their lives, all to the glory of God." – His Grace Bishop ALEXIS (Trader) of Bethesda.
Source:
OCP News Service