'Glory Wrapped in Shame: An Exegetical Study of the Passion Narrative in the Gospel of St. John' Book Review by Dr John G. Panagiotou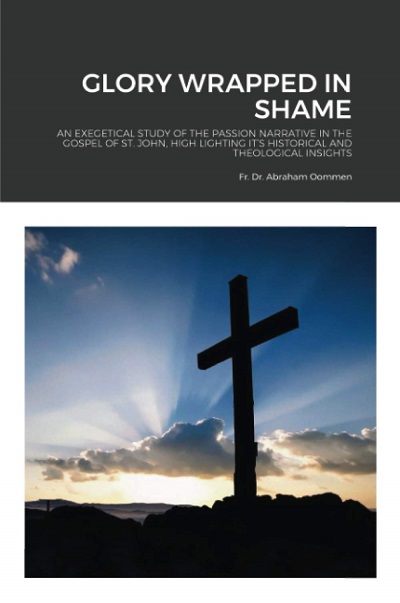 OCP News Service – 4/1/22
Glory Wrapped in Shame: An Exegetical Study of the Passion Narrative in the Gospel of St. John, Highlighting Its Historical and Theological Insights by Abraham Oommen [OCP Publications (Kerala, India), 2021, (220 pages, $15.00, paperback)]reviewed by John G. Panagiotou published on Touchstone Magazine.
Purchase a copy on Amazon:
Crucial Witness
In Glory Wrapped in Shame, Fr. Abraham Oommen, an Eastern Orthodox priest, has given us a very fresh and interesting analysis of the Passion narrative in the Gospel of John. In this work, Fr. Oommen seeks to dispel the notion that John's Gospel is any less reliable in its historicity than the Gospels of Matthew, Mark, and Luke simply because John is thematic in his approach while the other three evangelists take a synoptic approach.
In so doing, Fr. Oommen focuses on the details of John's narrative of the Passion of Christ, many of which the synoptic Gospels mitigate or even omit. He also exposes how modern historical-textual criticism, such as that of Bultmann, has, in an effort to promote a deconstructionist view of Scripture, further aided in the diminishment of the Gospel of John as a historical document.
Fr. Oommen shows how, in stark contrast to the premise of historical-textual critics, John's Gospel is not only a theological work of great depth, but also a sound historical document, especially the Passion narrative. John simply takes a different approach than Matthew, Mark, and Luke do. As a result, he highlights the fact that John is a historian as well as a theologian.
Fr. Oommen introduces his thesis in chapter one by comparing and contrasting John's Passion narrative with the other three Gospel accounts. In chapter two, he details the arrest, trial, crucifixion, death, and burial of Jesus Christ as found in chapters 18–19 of John's Gospel. Chapter three examines the historical aspects of this text, while chapter four is devoted to an examination of its theological aspects. In chapter five, Fr. Oommen presents his conclusions.
The only criticism I have of this work, if you could even call it that, is that Fr. Oommen makes us want more of his textual analysis than just the Passion narrative of the Gospel of John. Still, it is understood that this study had to be limited in scope given its particular objectives. Having said that, my criticism is really a compliment attesting to his scholarly methodology and writing style, which keeps the reader thoroughly engaged.
Fr. Oommen has provided his readers with a wonderful study that shows more than anything else that the Gospel of John is a trustworthy historical source that should not be dismissed as a mere mythological, over-spiritualized work. His book is also to be commended for its Orthodox approach to exegesis. All in all, Glory Wrapped in Shame would be a positive addition to the bookshelves of scholarly and simple Christians alike.
John G. Panagiotou, DMin, ThD (Cand.), is an Orthodox Christian theologian and scholar, and writer. He is a graduate of Wheeling Jesuit University and St. Vladimir's Orthodox Theological Seminary and holds a doctorate from Erskine Theological Seminary. He is Professor of New Testament, Greek, and Patristics at Cummins Theological Seminary. Dr. Panagiotou is the author of The Path to Oikonomia with Jesus Christ as Our Lighthouse [OCP Publications, 2020].
Source:
OCP News Service