Orthodoxy Cognate PAGE Society – Annual Activity Report (2022) Published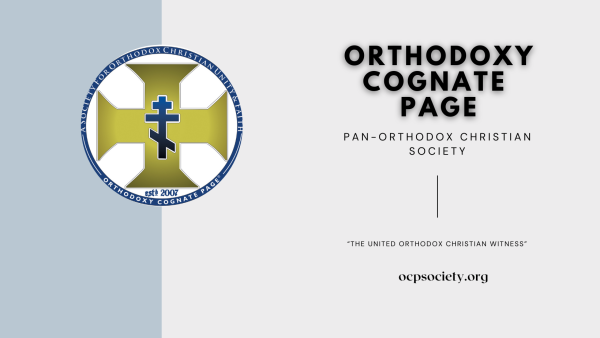 OCP News Service – 08/03/2023
Global: We are delighted to present to you the annual activity report of the Orthodoxy Cognate PAGE Society for the year 2022. We thank you all for the kind support and encouragement.
Orthodoxy Cognate PAGE is a Pan-Orthodox Christian Society founded in 2007 and established under the Travancore-Cochin Literary, Scientific and Charitable Societies Registration Act, 1955. Registration No: A.455/2010.
Photos/News releases of the OCP activities can be accessed here.
The brand-new portal of Orthodoxy Cognate PAGE (Pan-Orthodox Christian Society) was launched on 02 January 2022 by Dr John G. and Correna A. Panagiotou in Charleston, South Carolina area in the United States. The portal that was launched had a new URL (www.ocpsociety.org), a simple and user-friendly design with additional details on the activities of the Society.
Meetings and Visits, Conferences, Honors and Awards
On 12 February 2022, Director- Dept. of Public Relations and Information Services of the Orthodoxy Cognate PAGE Society was featured in the online session by Adebabay Media named "The State of the Orthodox Christian World".
In March, then head of Greek Affairs & Eastern Orthodox Theology at Orthodoxy Cognate PAGE Dr. John G. Panagiotou visited and discussed with Man of God' movie writer/director Yelena Popovic in Los Angeles, United States.
OCP delegation visited Hieromonk Stephan (Igmnov) Secretary of the Moscow Patriarchate's Department for External Church Relations on 27 July 2022 in Thrissur, Kerala, India. At the visit, the delegation on behalf of the OCP secretary presented a special felicitation letter to Department for External Church Relations – Moscow Patriarchate.
OCP delegation led by Dr. John G. Panagiotou, (then) head of Greek Affairs and Eastern Orthodox Theology of OCP Society was received at St. Nektarios Monastery in Aegina (Greece) on October 18, 2022.
On 31 December 2022, Orthodoxy Cognate PAGE Chairman Dr. John G. Panagiotou visited His Beatitude Patriarch Theophilos III of Jerusalem at the Greek Orthodox Patriarchate of Jerusalem (Israel and Holy Lands).
Research Projects and Publications
Workbook Companion to the best seller "The Path to Oikonomia with Jesus Christ as Our Lighthouse" (OCP 2020) written by Dr John G. Panagiotou was published in September 2022.
Media and Journalism
OCP News Service and OCP Media Network continued to publish the latest developments from the Orthodox Christian world.
Statements, Petitions, and Social Action
OCP Society published a statement on the demise of Martyr of Dictatorship – Patriarch Abune Antonios of Eritrea on 10 February 2022.
OCP Secretary through its delegates presented a felicitation letter to Department for External Church Relations – Moscow Patriarchate for its cooperation with the OCP society and for its extensive work in the realm of Pan Orthodoxy.
Secretary of Orthodoxy Cognate PAGE expressed his condolence through a letter to the Coptic pope on the demise of the faithful due to the Fire Accident at the Church of Martyr Abi Sefein in Imbaba.
OCP Chairman also sent his condolence letter to the synod of the Cyprus Church in the demise of His Beatitude Chrysostomos II – Archbishop of New Justiniana and All Cyprus.
Webinars and Videos
OCP Youtube started many featured programs in the year 2022 including 'Orthodox World this Week' (Orthodox news in digital space)  which continues as a flagship program in the Orthodox world. We also started 'Pan-Orthodox Round Table' in which the first episode featured Hieromonk Stefan (Secretary of the Inter-Christian Relations of the Dept. of External Church Relations of the Moscow Patriarchate).
The third program that OCP started in 2022 was 'Creative Orthodox Corner' in which the first episode featured the award-winning box office hit movie Man of God with its Director Yelena Popovic and Producer Alexandros Potter.
Networking and Associations
OCP Society in its quest to increase its network is in talks with similar Orthodox organizations around the world and expects to officiate it in the year 2023.
The OCP Society Leadership
OCP General Body was held in October 2022.
Source:
OCP News Service