Patriarchate of Alexandria and All Africa Suspends Commemoration of Patriarch Kirill of Moscow and All Russia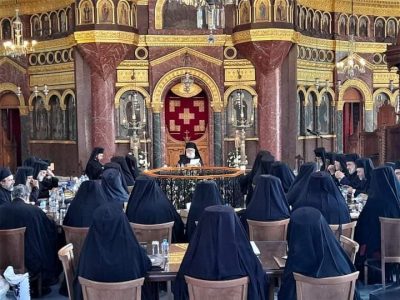 OCP News Service – 23/11/2022
Cairo – Egypt: The holy synod of the Greek Orthodox Church of Alexandria led by Pope Theodoros of Alexandria II decided to suspend the commemoration of Patriarch Kirill of Moscow and All Russia. The decision was taken at the holy synod held at the Cathedral of St. George the Patriarchate in Ancient Egypt – Cairo on November 22, 2022.
The synod also took the decision against the Metropolitan Leonid of Klin, the patriarchal exarch of Africa for violating the Alexandrian jurisdiction and canon law.
This decision is in accordance with the creation of the Russian Patriarchal Exarchate in Africa which was established with the Russian Synodal resolution on December 29, 2021.
This can also see as an act of return to Russia's decision aginst commemorating prelates and leaders who stand with or celebrate liturgy with the leaders from the Orthodox Church of Ukraine.
According to the Orthodoxia News Agency:
"The Holy Synod of the Alexandrian Church also announced that it would defrock Metropolitan Leonid of Klin, the Russian Church's Exarch for Africa, citing "… a series of canonical offenses", such as inheritance in the jurisdiction of the Church's pontificate, distribution of the holy myrrh, enticing local clergy and, propagating ethno-tribalism, or ethno-phyletism. The Holy Synod also condemned what it called newly circulated and unsubstantiated theories about the distribution of the Russian world around the globe on the basis of nationality".
Source: 
OCP News Service