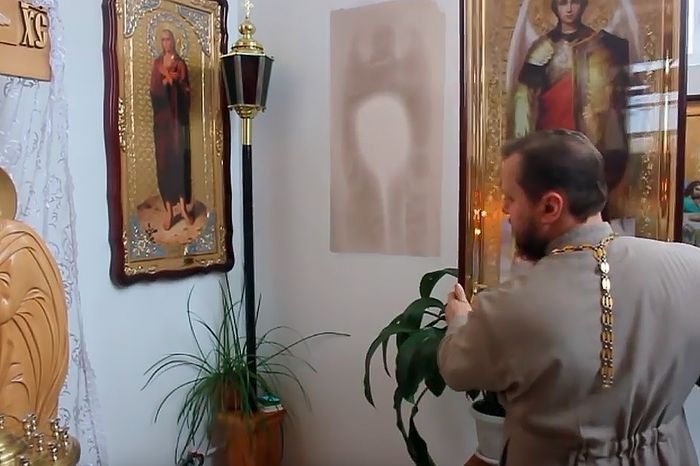 ICONS MIRACULOUSLY APPEAR ON WALLS OF OMSK CHURCH
Pravoslavie.ru – 5/1//16
In the Omsk church of the Great Marty and Healer Panteleimon negative silhouettes of saints have appeared underneath their icons. Strange gray outlines on the wall behind the icons were first noticed a year ago. Specialists had just begun painting the walls. The priest and rector of the church decided not to speak about the discovery without the blessing of Metropolitan Vladimir of Omsk. Now the rector, Fr. Alexander, gladly shows the miracle, reports Komsomolskaya Pravda.
According to him, the miracle occurred in the small chapel of St. Nicholas the Wonder-worker with the icons of the Archangels Michael and Gabriel. The outline of the figures on them suddenly appeared on the walls where the icons are hanging. It's as if their faces left imprints. Some of the outlines are well-defined, and others a bit less clear. But they all have a big white spot in the middle of the image.
With the icon "Joy of All Who Sorrow," located in another part of the church, there is another story. On the image itself is the Theotokos and the Christ Child in her hands, with two angels sitting on either side. But on the wall another figure appeared. It's so clear that you can immediately say it's an exact copy of the icon of the Mother of God traditionally placed in icon corners.
There are many icons of the saints in the church which emerged in 2007, but the negatives appeared only under four of them. They're no different than the other icons. They're not vintage or unique and appeared in their places just two years ago. The rector sees no logical explanations for this phenomenon and gladly shows that the icons do not even directly touch the walls, but have plain plywood without any depiction behind them. He explains the occurrence as a miracle.
"Of course, this is a rare phenomenon, and questions about how it could happen should go to God, not me," Fr. Alexander told Komsomolskaya Pravda. " It's a miracle! The Lord helps us by our iconographers… After all, it was very hard to financially support construction when we began."
Three icons are located in their places, and for pilgrims, so as to not constantly remove the frames, the priests have hung negatives of the images in the corners.
Head of the Moscow Patriarchate's commission for studying miraculous phenomena, academician Pavel Florensky, said:
"What you have described to me is a complete surprise. I've never heard of such a thing. There is a similar phenomenon, strangely enough, that is rather common—when negatives of faces appear on glass. We have studied such glass—there's some substance on it which is neither on the negatives, nor in the paint, nor on the boards. We have described this phenomenon, but it's nature remains a riddle. But every miracle has a material basis. In any case, it's the grace of God!
Material prepared by Ksenia Uglanovi.
Translated by Jesse Dominick