Abune Mathias Returns to Ethiopia After Treatments in United States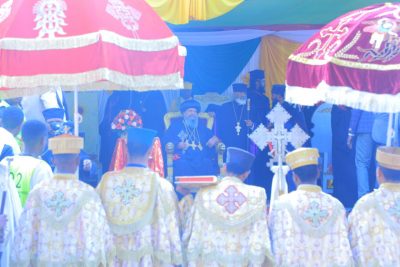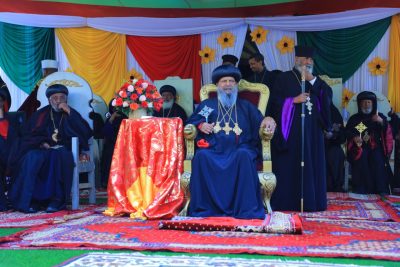 Menetasnot Desta (Delegate of Ethiopia and Horns of Africa) – OCP News Service – 09/09/2022
Addis Ababa – Ethiopia: His Holiness Abune Mathias return to his see after completing his treatment on Tuesday, 06 September 2022. His Holiness was warmly welcomed by the Synod Members and faithful at Bole International Airport. His Holiness was in America since July 19, 2022, for medical treatments.
His Holiness was received at Bole International Airport by H.G Abune Abraham, General Manager of the Patriarchate General Office, and archbishop of Bahir Dar diocese, H.G Dr. Abune Petros, General Secretary of the Holy Synod and Archbishop of New York Diocese, His Beatitude Archbishops, senior officials of the Archdiocese, priests and parishioners as well as Sunday school youths.
At the welcoming program that was held at Menbere patriarch St. Marry monastery H.G Abune Abraham, Chief of Staff of the Patriarchate General Office and Archbishop of Bahir Dar Diocese conveyed a welcome message. In his message abune stated that , "Your Holiness saved the church once again by breaching the wishes and ideas of the enemies of the church and returning to Ethiopia"
H.G Abuna Abraham remembered that H.H had made a great history for the unity of the Holy Church by welcoming His Holiness Abune Merkoreos and allowing two holy patriarchs to live in honor on one throne and said that "in a way that history will never forget" and thanked H.H for saving the church once again by their return to his see against to the wish of enemies.
His Holiness Abune Mathias I, the sixth Patriarch of Ethiopia, Archbishop of Axum, and Eachigue on the see of Tekle Haymanot, said at the reception ceremony that "through the prayers of the Blessed Fathers, the prayers of the Ethiopian priests and the faithful, I have received good treatment and my illness has been cured." He also said that he is very happy that the reception was done in honor of the church because it is a church that is respected and known in the world for its faith"
His Holiness thanked Abune Abraham and Abune Petros for giving good answers about the problem that happened at Bole Airlines on his departure, and said "May God help those who have committed such acts, so that they do not repeat this act against the church, and they should ask God for forgiveness because what they have done is not easy," he said. He thanked all those who attended the reception by saying, "May God bless you for attending the church and holding a grand reception." "Finally, it is known that the situation and the times are difficult, so we should all pray hard for our country Ethiopia, we should pray hard for patience, peace, unity, unity and to remove the existing problems", he said
On July 18, 2022, while traveling for medical treatment, some governmental bodies and media reported that His Holiness has run away with the heritages of the church and fabricated false information which targeted to divide the church again.
Source:
OCP News Service